Join Now!

NOTE: You must be 18 years of age or older to join this site.
You might be asking what Sweeties Secret Sweeps is all about. By now you know that you can win cash and prizes by entering legitimate sweepstakes but did you know that you can win even more by entering local sweepstakes?
The Secret site was created as a resource to help you in your quest to find more local sweepstakes. We provide you with local sweepstakes for your state, teach you how to find them, give you resources for your state, and provide a great community of sweepers who are all working towards the same goal – to win more prizes. The Secret site is just one more tool in your local sweepstakes arsenal.
What are Local Sweepstakes?
A local sweepstakes is one that is only open to the city, county or state you live in. By entering a local sweepstakes you cut down on the competition because less people are eligible to enter. That helps you win more prizes.
What is Sweeties Secret Sweeps
The Sweeties Team spends countless hours each day finding and posting sweepstakes for all 50 states. We find local sweepstakes for your state so you don't have to.
Why is the site private?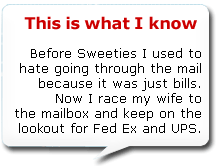 We post the locals behind the walls of Sweeties Secret Sweeps to help you win more.
While many locals can be found by anyone, the vast majority of Sweepers will not spend time looking for them. Many local sweepstakes are "quick ending" and you may miss out on entering them because you don't have time to search for them. Once the Sweeties Team finds them we post them on this private site so all you have to do is enter and win.
Does this site cost?
Yes. There is a $25 yearly fee to join. It takes a lot of effort to find sweepstakes and post them for 50 states. The fee covers all kinds of things from our hosting to paying Sweeties Team members who do the work for you. Most members say they win their fee back and more within a month.
Think of it this way, you may not want to change your own oil so you pay a mechanic. You may not want to find sweepstakes so pay us to do the work for you.
You will not find 1,000s of sweepstakes for your state at any one time like you will with national sweepstakes. National sweepstakes are a dime a dozen and are also much harder to win. Every national sweepstakes you find it also seen by tens of thousands of other Sweepers who want to win.
Entering local sweepstakes is entering "quality over quantity", winnable over non-winnable.
Can you guarantee that I will win?
Absolutely not! There is never any guarantee that you will win whether you enter a national sweepstakes or a local sweepstakes for your state.
There are many factors involved in winning.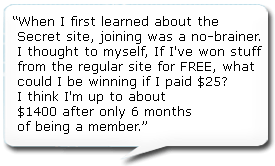 First: you have to be willing to put in the time and effort to enter. We post sweepstakes but you still have to enter them if you want to win.
Second: it requires patience to win sweepstakes. Maybe you won't win today but you could win two weeks from now.
Third: to win on a regular basis you have to enter consistently and stick with it when you aren't winning. If you give up you will lose out on great prizes. Enter sweepstakes everyday, even if you just spend 15 minutes doing it.
Fourth: Quality versus quantity. Like I said, you can enter lots of national sweepstakes but you will have a lot of competition too because this is a huge hobby with hundreds of thousands of people entering at any one time. The more locals you can enter the better your chances of winning and you won't have to enter as many to win.
Registered Users: Click the LOGIN link and then type in your username and password to access the private form. If you forget your password you can use the link to request it to be sent to you by email.
How to Pay and Register:
We use PayPal for secure payment processing but you can pay through:
PayPal Account (Must Be Verified with A credit Card Subscription)
Major Credit Card (MasterCard, Visa, Discover, or American Express
Click the PayPal button at the bottom of the page to join.
You do NOT need a PayPal account to pay.
Once you click button you will be taken to the PayPal site where you can click the link below the PayPal log-in box to pay with any major credit card.
Once you pay you will be transferred to a page where you will get to pick your user name, password, set your email address and then log in. There is no waiting for us to set it up.
Ready to join? Remember, the cost is only $25 a year!
NEW MEMBERS

After you pay, Please WAIT to be transferred to the Secret site where you will setup your account. If you are not referred or close the window by mistake just email us at accounts@sweetiessecretsweeps.com and we can setup your account manually.

This button is for new member only.
EXISTING MEMBER RENEWALS

Use this button to renew your yearly membership.

Note: Please include your Secret site login user name in the notes box when you pay. Please allow up to 12 hours after you pay for your account to renewed.
For Account Issues: Email us at accounts@sweetiessecretsweeps.com

For General Questions email sweetiessecretsweeps@gmail.com