We hide some of the best sweepstakes behind Sweetie's Secret Sweeps walls to give you a better chance of winning cash and prizes. A Sweeties Secret Sweeps membership gives you all of the national sweepstakes you will ever want to enter along with local sweepstakes for the state you live in. No matter what state you live in, we have sweepstakes for you.
Why should join Sweeties Secret Sweeps?
10,000 sweeps posted each year
local sweepstakes for your state
sweepstakes codes and trivia answers
record your entries
track your wins
LIVE member chat 24/7

LIVE Member Chatroom
We now have a live chat you can pop in during the day to interact with members and the team Members like helping each other and it's a great way to stay connected to share the hobby you love. Share you wins, learn about super hot or quick ending sweeps, ask questions and hang out with other sweepers.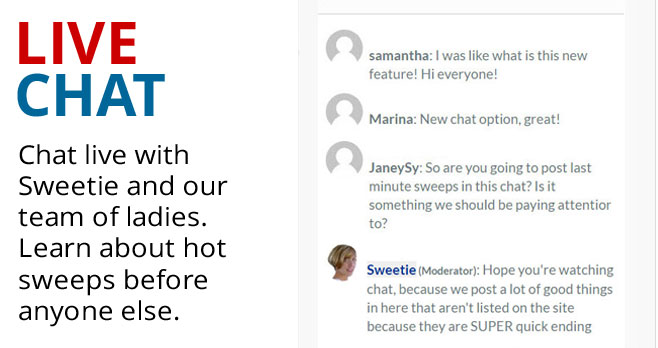 We read the rules so you don't have to!
Finding sweepstakes is hard enough – reading rules is the part no one wants to do – but we are happy to do it for you. We read the rules and summarize them in a nice, compact format that is easy to read and understand.

Customized just for You!
The Secret site offers you an easy way to create a customized list of sweepstakes that is just for you and no other member. Every member can sign up to receive daily email updates for sweepstakes only they are interested in. Sign up for national sweepstakes and sweepstakes for your state.
Member are winning and you can too!

Secret site member Marcus said, "Between my wife and I, we recently won 3 large cash prizes from secret site sweeps – $5,000, $7,000 + $800 Publix gift card, and $2,500.  They say wins come in 3's so there you go!  It's truly wild that the total cash amount adds up to about $15,000.  Right before winning these I turned down a job that would have increased my salary $15,000 but in turn would've required far too much travel and stress for this young dad.  Really cool how things worked out in the end."
Watch our a 3-minute behind-the-scenes tour to get a quick look around the Secret site.
Watch this 2-minute video so you can actually see some of our features in action.
Record your entries
Track your wins
Save sweeps on a Favorites list
and lots more
---

Cost/Renewal Information: The cost is $50 per year for a Secret site membership. A Secret site membership does not automatically renew each year.
---
So Many Benefits
Not only do we give you great sweepstakes to enter, we also…
Show you how to enter sweepstakes that can be difficult to figure out
Give you a way to track your entries
Give you the ability to organize and sort your sweepstakes
Show you what sweepstakes are new today and ending today
Provide a place where you can share your wins with other members or just ask questions about the hobby
Teach you skills as well as give you tricks and tricks for entering on Facebook, Instagram, Twitter, Pinterest, by text, and even mail
---
Sweepstakes Codes and Answers
Our team of "Sweeties Code Ladies" watches countless hours of television shows to provide our members with answers, words of the day, trivia answers and codes for sweepstakes when they are required.
---
Alerts and Reminders!
We now offer text and Twitter alerts for hot sweepstakes, daily email reminders, and special codes and answers needed to win the best sweepstakes.
---
Ready to join and start winning?
Just $50 a year get you everything the Secret site has to offer!
After you pay, Please WAIT to be transferred to the Secret site where you will setup your account. If you are not referred or close the window by mistake, email us and we will setup your account manually.

Did someone refer you? After you join, please email us and provide your friend's name, email address or Secret site user name so we can make sure they earn the bonus Sweeties Rewards points for referring you.
Can you guarantee that I will win?
Absolutely not! There is never any guarantee that you will win whether you enter a national sweepstakes or a local sweepstakes for your state.
There are many factors involved in winning.
#1: you have to be willing to put in the time and effort to enter. We list legitimate sweepstakes but you still have to enter them if you want to win.
#2: sometimes it requires patience to win sweepstakes. You may win on your very first try but you may win in two weeks, a month or 6 months.
#3: to win on a regular basis you have to enter consistently even when you aren't winning. If you give up you will lose out on great prizes. Enter at least 10 to 20 sweepstakes everyday to see results.
---
What Are Local Sweepstakes?
A local sweepstakes is one that is only open to the state you live in or a handful of states. Example: maybe you live in Connecticut. The sweepstakes would only be open to Connecticut residents. Or, since you live in Connecticut the sweepstakes may be open to those who live in the New England states – Connecticut, Massachusetts, Rhode Island, New Hampshire, Vermont, and Maine. By entering a local sweepstakes you cut down on the competition because fewer people are eligible to enter. That helps you win more prizes.