Win More Prizes With Local Sweepstakes
If you could win more cash and prizes would you want to know how? Of course, we all want to win more. Entering national sweepstakes is one way to win prizes, entering sweepstakes on Facebook and Twitter is another way to win prizes, but one of the best ways to win more prizes is by entering sweepstakes that are only open to your state or a handful of states.
In the Sweepstakes world we call these sweepstakes "the locals"
Why Enter Local Sweepstakes? Less Competition!
Think about all of the national sweepstakes you enter on a regular basis. You may not know how many people enter those but take for example the Marlboro sweepstakes that are so popular – between 2 and 3 million people enter those sweepstakes. That's a LOT of competition.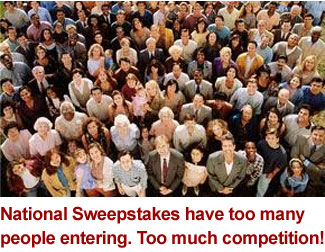 By entering sweepstakes that are only open to your state or even a handful of states you cut out a lot of the competition. Even if the local sweepstakes is advertised online where a lot of people can find it, not everyone will be eligible to enter it unless they live in that state.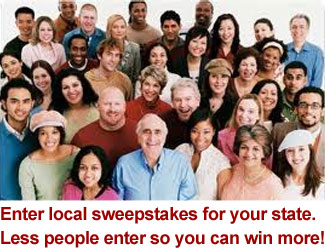 Sweeties Secret Sweeps is a community of sweepers all looking for the same thing, sweepstakes for their state.
When you join the Secret Site community you will get:
Sweepstakes for your state (every state is listed and you have access to all states)
A thriving community of Sweepers all working towards the same goal, to win prizes
Resources for your state to help you find more sweepstakes for your state
Instruction to teach you how to find more sweepstake for your state
Sweepstakes you will never find on your own for your state
The cost is just $25.00 for an entire year.
While sweepstakes open just for your state will not be as plentiful as national sweepstakes open to everyone, you have a better chance of winning from them and you will have to enter less sweepstakes to win more.
Sweepstakes Resources for Every State
You will find categories and resources for each state on the Secret site and it is setup like this.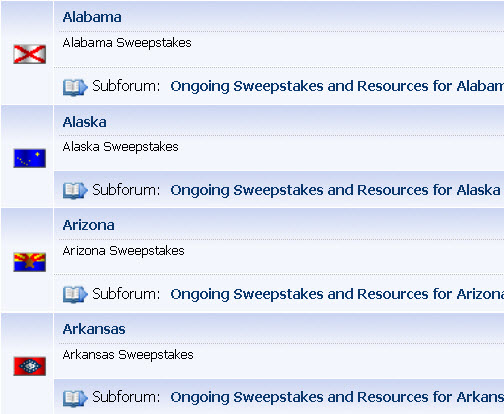 Sweepstakes Help, Chat, Winners
You will also find helps, a place to chat with other members, a place to share your wins and more.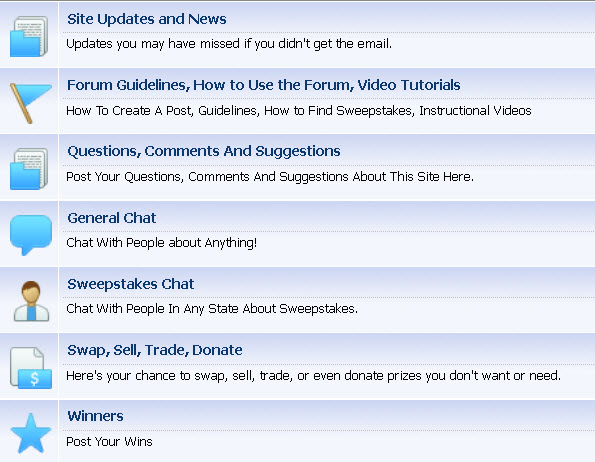 Enter "The Locals" – Quality over Quantity
Disclaimer and Our Promise: we can never guarantee a certain amount of sweepstakes for your state. Each state is different. We can guarantee there will be sweepstakes available for your state all year long. We cannot guarantee you will win. We will teach you how to find more sweepstakes for your state and give you resource.
JOIN NOW!

After you pay, Please WAIT to be transferred to the Secret site where you will setup your account. If you are not referred or close the window by mistake just email us at accounts@sweetiessecretsweeps.com and we can setup your account manually.

This button is for new member only.