Enter local sweepstakes for your state will give you better odds for winning a prize. Many of my own personal big sweepstakes wins such as my truck, year's supply of groceries and big cash prizes have come from sweepstakes for just my state of Connecticut. Even if you enter sweepstakes that are open to just a few states you have better odds than entering national sweepstakes that are open to all states. National sweepstakes are highly advertised and often posted on social media sites like Facebook and Twitter where millions of people get the chance to see them. People who would never enter a sweepstakes will enter national sweepstakes if they see them posted on social media because they trust they are legitimate, especially if they are posted by the company who is running the sweepstakes.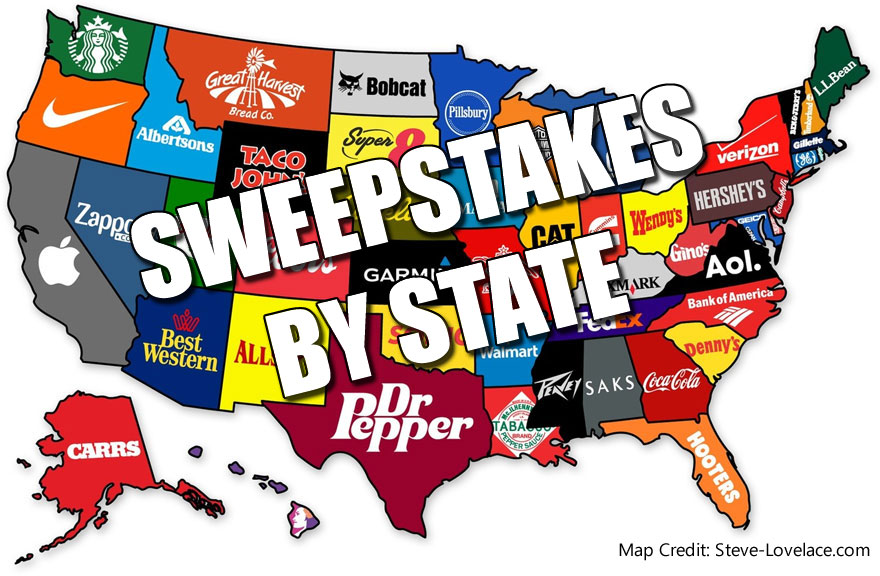 Sweeties Sweeps and Sweeties Secret Sweeps has put together a list of bonus resources that you can use for every state. We post a lot of local sweeps on the Secret site but there are always more that we never find in time to post them. If you are serious about winning prizes then use these resources to find sweepstakes for your state that we don't post.
If you live in that state make sure you check this list and spend some time going through the sites and subscribing to their newsletters to get updates when they have new giveaways and sweepstakes for your state.
TIP: Also make sure you look at the resources for surrounding states. Many giveaways are open to a group of states. For example, I live in Connecticut and many sweepstakes are grouped in the New England states of Connecticut, Rhode Island, Massachusetts, New Hampshire, Maine and Vermont. Illinois is often grouped with Indiana, Michigan and Wisconsin.
NOTE: The compiled resources listed below are for Secret site members only and can only be access by logging into your account.
Alabama Sweepstakes
– Bonus Alabama Sweepstakes Resources
Alaska Sweepstakes
– Bonus Alaska Sweepstakes Resources
Arizona Sweepstakes
– Bonus Arizona Sweepstakes Resources
Arkansas Sweepstakes
– Bonus Arkansas Sweepstakes Resources
California Sweepstakes
– Bonus California Sweepstakes Resources
Colorado Sweepstakes
– Bonus Colorado Sweepstakes Resources
Connecticut Sweepstakes
– Bonus Connecticut Sweepstakes Resources
Delaware Sweepstakes
– Bonus Delaware Sweepstakes Resources
Florida Sweepstakes
– Bonus Florida Sweepstakes Resources
Georgia Sweepstakes
– Bonus Georgia Sweepstakes Resources
Hawaii Sweepstakes
– Bonus Hawaii Sweepstakes Resources
Idaho Sweepstakes
– Bonus Idaho Sweepstakes Resources
Illinois Sweepstakes
– Bonus Illinois Sweepstakes Resources
Indiana Sweepstakes
– Bonus Indiana Sweepstakes Resources
Iowa Sweepstakes
– Bonus Iowa Sweepstakes Resources
Kansas Sweepstakes
– Bonus Kansas Sweepstakes Resources
Kentucky Sweepstakes
– Bonsu Kentucky Sweepstakes Resources
Louisiana Sweepstakes
– Bonus Louisiana Sweepstakes Resources
Maine Sweepstakes
– Bonus Maine Sweepstakes Resources
Maryland Sweepstakes
– Bonus Maryland Sweepstakes Resources
Massachusetts Sweepstakes
– Bonus Massachusetts Sweepstakes Resources
Michigan Sweepstakes
– Bonus Michigan Sweepstakes Resources
Minnesota Sweepstakes
– Bonus Minnesota Sweepstakes Resources
Mississippi Sweepstakes
– Bonus Mississippi Sweepstakes Resources
Missouri Sweepstakes
– Bonus Missouri Sweepstakes Resources
Montana Sweepstakes
– Bonus Montana Sweepstakes Resources
Nebraska Sweepstakes
– Bonus Nebraska Sweepstakes Resources
Nevada Sweepstakes
– Bonus Nevada Sweepstakes Resources
New Hampshire Sweepstakes
– Bonus New Hampshire Sweepstakes Resources
New Jersey Sweepstakes
– Bonus New Jersey Sweepstakes Resources
New Mexico Sweepstakes
– Bonus New Mexico Sweepstakes Resources
New York Sweepstakes
– Bonus New York Sweepstakes Resources
North Carolina Sweepstakes
– Bonus North Carolina Sweepstakes Resources
North Dakota Sweepstakes
– Bonus North Dakota Sweepstakes Resources
Ohio Sweepstakes
– Bonus Ohio Sweepstakes Resources
Oklahoma Sweepstakes
– Bonus Oklahoma Sweepstakes Resources
Oregon Sweepstakes
– Bonus Oregon Sweepstakes Resources
Pennsylvania Sweepstakes
– Bonus Pennsylvania Sweepstakes Resources
Rhode Island Sweepstakes
– Bonus Rhode Island Sweepstakes Resources
South Carolina Sweepstakes
– Bonus South Carolina Sweepstakes Resources
South Dakota Sweepstakes
– Bonus South Dakota Sweepstakes Resources
Tennessee Sweepstakes
– Bonus Tennessee Sweepstakes Resources
Texas Sweepstakes
– Bonus Texas Sweepstakes Resources
Utah Sweepstakes
– Bonus Utah Sweepstakes Resources
Vermont Sweepstakes
– Bonus Vermont Sweepstakes Resources
Virginia Sweepstakes
– Bonus Virginia Sweepstakes Resources
Washington Sweepstakes
– Bonus Washington Sweepstakes Resources
West Virginia Sweepstakes
– Bonus West Virginia Sweepstakes Resources
Wisconsin Sweepstakes
– Bonus Wisconsin Sweepstakes Resources
Wyoming Sweepstakes
– Bonus Wyoming Sweepstakes Resources
Find your state states and start entering so you can win. The most local sweepstakes you enter, the more prizes you will win